Advice
Tiling
Getting the wall tiling right is one of the most important aspects of any bathroom and kitchen design. Most large tile shops will have panels of different designs on display and a large selection of border tiles that will help break up large areas of plain wall tiles and add some colour and interest to the design.
Whenever possible borrow a variety of samples from the supplier and check what they look like in your bathroom or kitchen under both natural and artificial lighting. You will need to purchase extra tiles to allow for wastage caused by cuts, etc. Please be aware that the larger the tile the greater the wastage will be. Within our quotation we will advise on the approximate area of tiles you will require.
Marble, Travertine and some natural stone mosaic tiles require sealing before use. They will also need re-sealing on a fairly regular basis depending on their use.
Electrics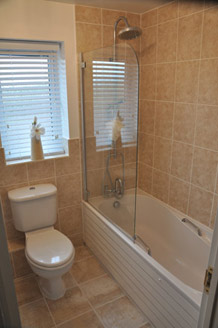 New Electrical Regulations have been introduced recently that may result in additional safety devices having to be fitted on your existing electrical supply prior to the planned installation of equipment, such as down lighters, extractor fans, Whirlpool baths, shower pumps, Electric shower, under floor heating, summer heating kits, shaver sockets, mirror lights and the installation of additional power sockets in the kitchen.
The regulations basically state that any electrical circuit altered or extended must be protected by an RCD (Residual Circuit Device) If you already have a modern consumer unit this may already have RCD protection fitted and additional works may not be required, however, this can only be established by a site survey by a qualified electrician, which if you wish can be organised by us.
Modern Mixer Taps, Shower units and Diverter valves.
If your hot water is stored in a hot water cylinder you may find that the flow of water through a modern mixer tap or shower unit is reduced. Please ensure that the taps and shower units you purchase are suitable for the type of water system you have in your property.
Frequently Asked Questions
Q. Will I be without a toilet while the work takes place?
A. If the work requires renewing your only toilet we will ensure you have a working toilet available at the end of each working day.
Q. Will there be a lot of dust and mess?
A. Dust sheets will be provided from the house entry point to the work area and doors will be kept closed to reduce the spread of dust. The area will also be vacuumed as necessary at the end of each working day.
Q. Will the old suite and rubbish be removed?
A. All waste and packaging will be removed during and on completion of the works.
Q. Will all the existing wall tiles have to be removed?
A. To reduce possible structural damage to your walls, and only where conditions and circumstances allow, we prefer to tile over existing wall tiles.
If you require any further information or advice about our kitchen and bathroom fitting service, please do not hesitate to contact us.